Welcome to The Sidney Pier Hotel & Spa
A Modern Boutique Hotel in Sidney, BC
*** COVID -19 Update ***
The Sidney Pier Hotel is pleased to welcome hotel guests from across Canada and now, fully vaccinated guests from around the world. Those travelling under Essential/Exemption travel will be required to provide documentation at check in.
Haven Spa & Salon - Covid Screening for all clients will be required prior to appointment check in. Those who have been outside of Canada within 14 days prior to their appointment will be required to rebook.
The Sidney Pier Hotel & Spa fitness center is now open and available to private members and hotel guests as of January 20th, 2022. All visitors to the fitness center are required to be double vaccinated and must book their time slot online as there is a limit to 2 people in the fitness center at a time in accordance with the Provincial Health Order. Please follow this link to book your time slot today: https://pier-fitness-center.reservio.com
We continue to ensure the safety of all of our guests and employees by maintaining additional deep cleaning protocols on top of our regualr strict cleaning requirements. Those areas that are considered high-touch points recevieve additional disinfection. Masks are required to be worn inside the Hotel, Spa & Salon, Restaurant and Cafe.
We are offering limited housekeeping services at this time and are more than happy to provide you with linens, towels, coffee, tea, etc...outside your door during your stay. For those booking long term stays-additional services will be offered. Please ask our Guest Experience Agents for more details.
*** *** ***
Arriving at The Sidney Pier Hotel & Spa, you are welcomed into a bright, bustling lobby with guests working or relaxing on leather chairs clad in cool, nautical blues and greens. Pets lucky enough to come along for the trip snack on treats handed out by hotel staff.
​The Pier is located just minutes from the Victoria International Airport, BC Ferries and Washington State Ferry terminals. All 55 spacious guest rooms and suites offer the perfect blend of contemporary style and comfort. The Pier has a variety of room types and our guest services are second to none! From our Business rooms, with all the essentials, to our Signature Suite with panoramic ocean views, we have the perfect room waiting for you.
Haven Spa & Salon and our fitness centre are focused on relaxation and rejuvenation, offering a full spectrum of services. Take in the charming coastal community of Sidney-by-the-Sea. Over 100 boutique shops make browsing a breeze, or drink in the fresh ocean air along the sea walk. Go whale watching, kayaking, stroll the promenade or visit Victoria Distillers, BC's only waterfront distillery right next door.
Framed by sleek, modern all-glass architecture and gorgeous ocean views, our boutique hotel in the charming town of Sidney, BC offers business and leisure travelers a welcoming waterfront home away from home.
55 Sleek, Modern Rooms & Suites
This is waterfront luxury at its best. All rooms boast a simple, minimalist design with stylish furnishings, super-soft pillowtop beds, comfy robes and slippers and free Wi-Fi. The Signature Pier Suite offers a full kitchen and a private balcony with panoramic ocean views.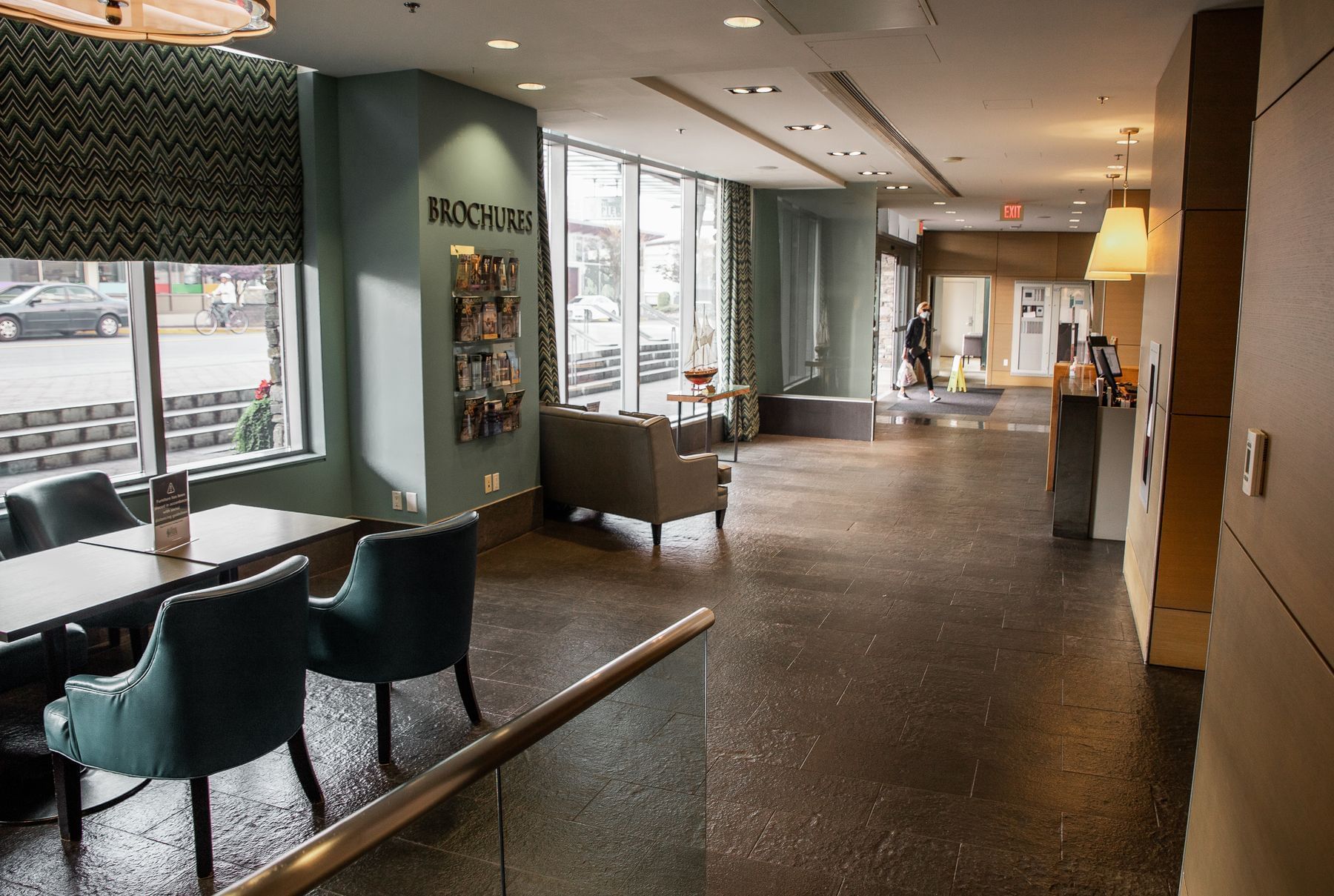 Haven Spa & Salon
Indulge in a luxurious facial, massage or body treatment in our beautiful seaside spa or freshen up your look with a new style at our waterfront salon. For the ultimate day of pampering, call Haven Spa & Salon today!
An Inspiring Setting for Gatherings
Our oceanside setting and bright, energetic interiors breathe fresh air into get-togethers of all manner and size. Learn more about hosting an event with us.